Taking a break
Why I pay for music again.
I used to steal music all the time. I'm sure I still owe a few bands another purchase or two to make up for my pirating. The question used to be, "Why not?" Followed by some justification along the lines of, "well the artists dont get that much of the money anyway," and "they make more money doing shows and selling merch." Both those arguments make about...
impulseartists: We work with some amazing talent...
This could be the longest lap of depression yet. 26 years old. Full time work. Completely unfulfilled in any sort of passion whatsoever, be it love, music or writing. I wish I could stay awake forever. I would have more time to play guitar and read and write and work and make money and even relax. How did I get here. How did I find myself waist deep in the American dream so soon? It's...
Imaginarykidd you and your discerning ear win a shirt! ( I should have edited out the chorus, huh)
Watch
First person to guess what this song is gets a shirt
Being in a band is not an easy career/hobby/passion. It takes time and money and dedication to keep a band running and it infuriates me to see people put in a serious amount of promotion and then sit on their creative asses and write uninteresting crap. It's hard getting people to even listen to your band, let alone buy a record or come to a show. Part of that reason is most people are going to...
3 tags
Highwire Daze Interviews What Hands are For →
anchoreightyfour: Take a look at What Hands are For's latest interview with HIGHWIRE DAZE.  Super excited for this band! check out Daniel's interview with Highwire Daze!
What Hands Are For - "Jungle Riots"
rockedition: What Hands Are For have debuted a lyric video for "Jungle Riots." The new single, which was produced and engineered by Kyle Black (Breathe Carolina, Set Your Goals, All Time Low), is currently available on iTunes. Original Article chyyeaahh!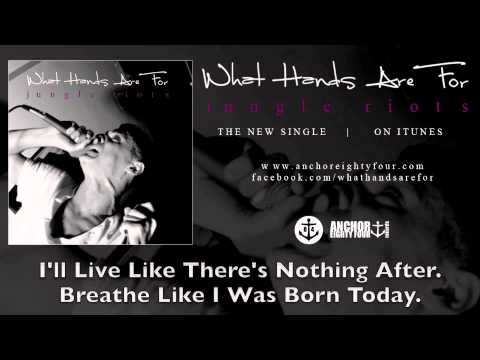 If you don't like where you are at...
leave.  whaf. 
We can forgive a man for making a useful thing as long as he does not admire it. The only excuse for making a useless thing is that one admires it intensely. All art is quite useless.
"Well," said Pooh, "what I like best," and then he had to stop..."
Jungle Riots
Stop the press. Deep down I know I'm not impressive. The more exposure my face gets, the more my essence tends to lessen. I'll learn my lesson when the best are dead or dying so I won't defend what I can't hold. Don't mistake these kind eyes for kindness! Ever lie so many times you begin to believe it? I'll burn my bridges when I've exhausted the...
Watch
The Bass and the Frustrated. 
The essence of philosophy is that a man should so live that his happiness shall depend as little as possible on external things. 
"I'll make the Devil shriek, 'Oh my God!' when he's seen..."
– These Trying Times.
Trying Times...
Transition.  -WHAF